Out of Stock
A-Line/Princess Halter Sweep Train Charmeuse Evening Dress With Beading Pleated
#2268
Product Reviews
Write a review
mer9515
2016-01-13 13:04:56
I am SO IN LOVE with this gown! It is so much more than I imagined. The color is GORGEOUS and the fabric is luxe. I was nervous ordering a custom dress online, but I was so impressed with every aspect of the ordering process. From the time I ordered it, to this custom gown being created, to it arriving at my doorstep, it only took 10 days! I ordered it in the Jade color. It is a little more turquoise than it translates in the pictures. I am so excited to attend my gala event in this amazing dress! Thank you so much JJ's house for having exquisite, affordable, flattering plus size formal wear options! I will definitely be a return customer, and be gushing to my friend's about my experience!

I custom ordered this dress and it arrived earlier than expected. Fit absolutely beautifully as if I was with the tailors in person. Wore it to a Charity Christmas event and was the hit of the party. Thanks JJs for making it a perfect evening. I just placed my order for this years' event!!! I promise better pics for the new dress :)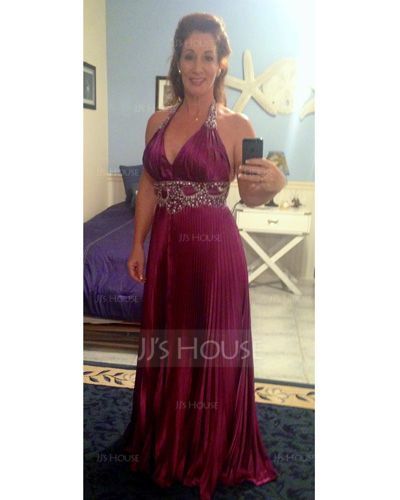 anita
2015-03-13 07:48:22
zermattfaller.kr
2015-12-30 21:01:13
I ordered my dress according to the standard size I wear. It fit perfectly. I chose the colour without seeing the final product. The dress was amazing... the quality.... outstanding. I received it within the guaranteed delivery date. I was a happy bride! Thank you JJ's House.
Adela
2012-12-13 01:08:50
A very beautiful dress. The color I chose was as expected, fabulous. It looks so elegant and eye-catching on me.I am more beautiful than the girl on your picture!!!Just so like it and will buy another evening dress from your site!!!
I bought one in fuchsia and one in royal blue. I get compliments every time I where them. I love them!i will buy more in more colors
Gemma
2012-12-12 01:00:22
this dress was ever so comfortable to wear. Loved it!the color i have chosen is the most suitable color for me .the fabric is great
Hi, me again

i recieved the picture of the hunter green and found that it's not really to my taste. i was wondering if you would do me a favour by emailing pics of the dress in Regency, Royal Blue and Red

Ta, Bek
Sherene Lozada
2012-01-25 12:16:41
I just wanted to say that this dress was perfectly made and it fit me really nice after making some adjustments to the waste. I wore it to the Marine Corps Ball last year and people gave me compliments through out the night. Thanks:)
Ivone
2011-12-29 18:42:30
Olá, gostei desse vestido, qual o tempo necessario para a chegada no Brasil?